Spiderman's hotel!
Needless to say, every Marvel or Spider-Man fan who goes to Disneyland Paris needs to stay at Disney's Hotel New York The Art of Marvel, or as Emmanuel calls it the Spider-Man Hotel!
The first time we saw this hotel, Emmanuel's eyes lit up, our hearts leapt and we knew it would only be a matter of time before we went there - it's his favorite hero! But of course the Hotel New York The Art of Marvel, as its name implies, prioritizes all things Marvel and has an incredible collection of pieces, paintings, armors that make us go crazy!
Even before you enter the hotel, you can feel the energy of the Avengers, with three gigantic statues, one of Captain Marvel, another of Iron Man and the third of Black Panther.
We arrived at the hotel walking from the Disney Village, and these statues were the first surprise the little one saw, and he immediately forgot everything and ran out screaming:
- Mom, look! The Iron Man
I already knew that the next few days were going to be magical!!!
New York the Art Of Marvel Hotel entrance
Well, if the outside had already won us over, the inside complemented our feelings! Every wall has an incredible detail, don't miss a thing! Possibly the first thing you'll notice are the three life-size Iron Man armors, but it goes much further than that!
You'll find a character on every part of the lobby wall, and one of the walls looks like it's straight out of a comic book! There are also pictures of the Avengers everywhere.
The Hotel
The brand new Hotel New York the Art Of Marvel at Disneyland Paris. It was officially inaugurated on June 21, 2021.
The hotel already existed, but not in this format. It was completely remodeled to celebrate Marvel art and today you can count on the quality of a 4-star hotel.
Disney's Hotel New York The Art of Marvel celebrates 80 years of Marvel storytelling in a typical New York setting, with a contemporary Art Deco style. The hotel is inspired by a New York art gallery, paying homage to the city that is home to many iconic Marvel superheroes (including Iron Man, The Avengers, Spider-Man), as well as the artists who created them.
Disney's Hotel New York the Art Of Marvel is the only Marvel-themed hotel in the world!
Location of Disney's Hotel New York The Art of Marvel
The hotel is located at the end of Disney Village and is a 10-minute walk from the entrance to the parks, but if you don't want to walk, a free shuttle service is also available.
making it the second closest hotel to Disneyland Paris and Walt Disney Studios Park after the Disneyland Hotel (now closed for renovations).
Bedroom
Disney's Hotel New York The Art of Marvel has 471 Superior rooms, 65 Empire State Club rooms and 25 suites dedicated to Spider-Man, the Avengers and other Marvel heroes.
We stayed on the 6th floor, where the Empire State Club rooms are located. Our room had two super-comfortable double beds, an armchair, a small table, a side table and a gigantic mirror which was also the television. The room's technology and modern architecture were a perfect match!
On one wall you'll find a picture of Spider-Man, in the Miles Morales version, and on another wall, mini pictures of the Marvel world.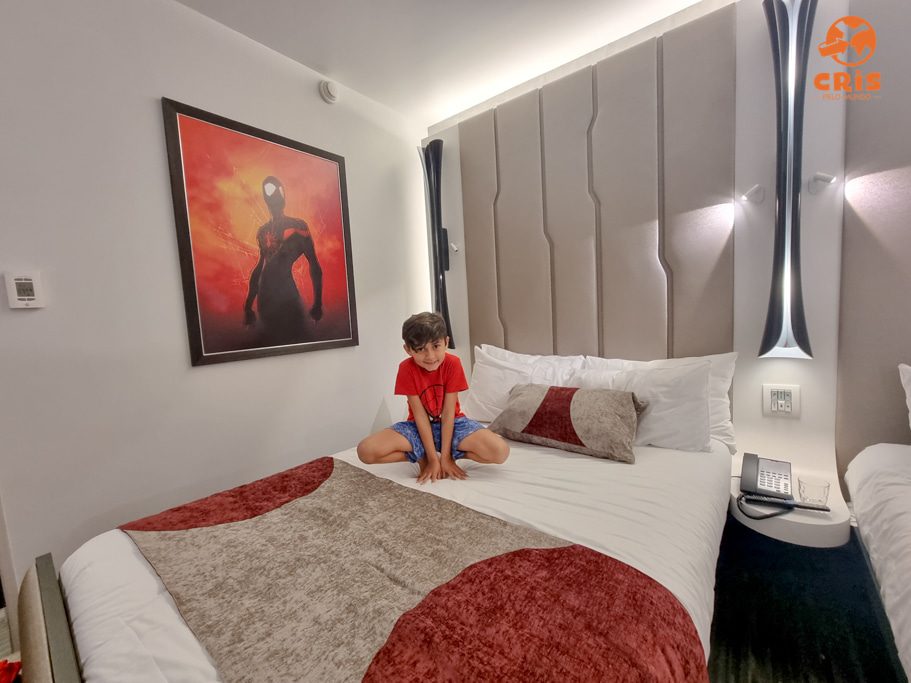 In the closet there were three bathrobes waiting for us, two for adults and one for children, along with cute slippers! Other benefits such as coffee and tea were also available in the room.
Every afternoon, a card with a new character arrived and a box with the infinity jewels, which were actually sweets! Emmanuel loved this treat. Okay, Cris, but what's with the Empire State Club?
Empire State Club
If you stay in an Empire State Club room, you get a few extras! The infinity jewel sweets, there are a few stickers here and there. You also get breakfast and afternoon tea included, black magic pass cards, robes, little Thanos sweets, with the infinity jewels every evening and access to the Empire State Lounge. The Empire State Lounge is where you have your afternoon tea and morning coffee, and throughout the day you can pop in and have some free soft drinks. You also have a dedicated check-in desk.
Exclusive benefits of the Empire State Club & VIP Suites
American breakfast included
Private Lounge
Free snacks between 16:00 and 17:30
Bathrobe
Private reception
Valet parking
Slippers
Breakfast and afternoon tea
Empire State Club Afternoon Tea and Breakfast Enjoy your Empire State Club treats! Breakfast, drinks and afternoon snacks in the lounge of Disney's Hotel New York The Art of Marvel.
Breakfast is open from 7am to 11am and Empire State Club guests can also stop by the Club Lounge to enjoy a variety of sweet and savory snacks from 4pm to 5:30pm. There's a good selection of Marvel-themed food, as well as some French favorites.
Other attractions at Disney's Hotel New York The Art of Marvel
The hotel itself is a huge attraction and you could easily spend a whole day enjoying the many options it has to offer! Every step is a photo at one of the incredible spots the hotel offers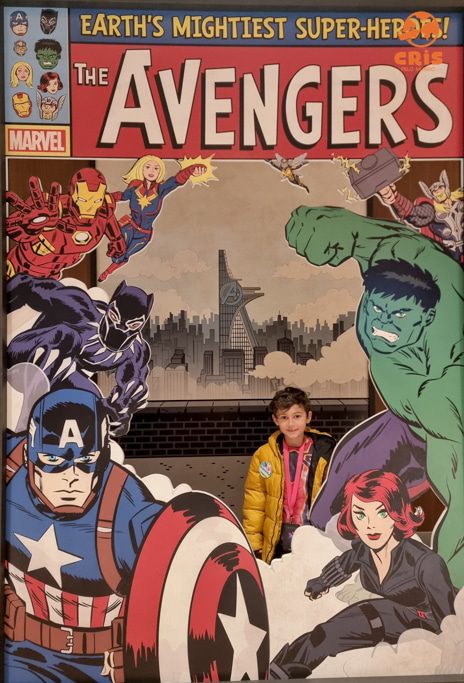 Superhero station
One of the hotel's highlights is the Super Hero Station, a station with interactive photo backdrops and encounters with Marvel characters, exclusive only to guests of Disney's Hotel New York The Art of Marvel.
Get a thrill from meeting Spider-Man, playing upside down in his room, or trying to lift Thor's Mjolnir! This station is a MUST for anyone staying at the hotel! We had so much fun playing superheroes, and have wonderful memories.
Book the slot to meet Spider-Man at check-in, or book ahead via the app up to a week before your stay!
Marvel Design Studio
For little superheroes, the Marvel Design Studio is a great place to learn how to draw all their favorite characters and create their own Marvel masterpiece. At the Marvel Design Studio, Emmanuel received a Marvel activity book with mini crayons to color in or play with. Of course, this is great fun for adults too.
Swimming pool and sauna
The Metro Pool is the perfect place to get ready for the day or relax after a long day at the parks. We woke up early to have a nice swim! And start the day wide awake! Metro Pool has heated indoor and outdoor pools, a children's pool and a hot tub. The indoor and outdoor pools are interconnected, but as we went in winter and it was close to freezing outside, access was limited.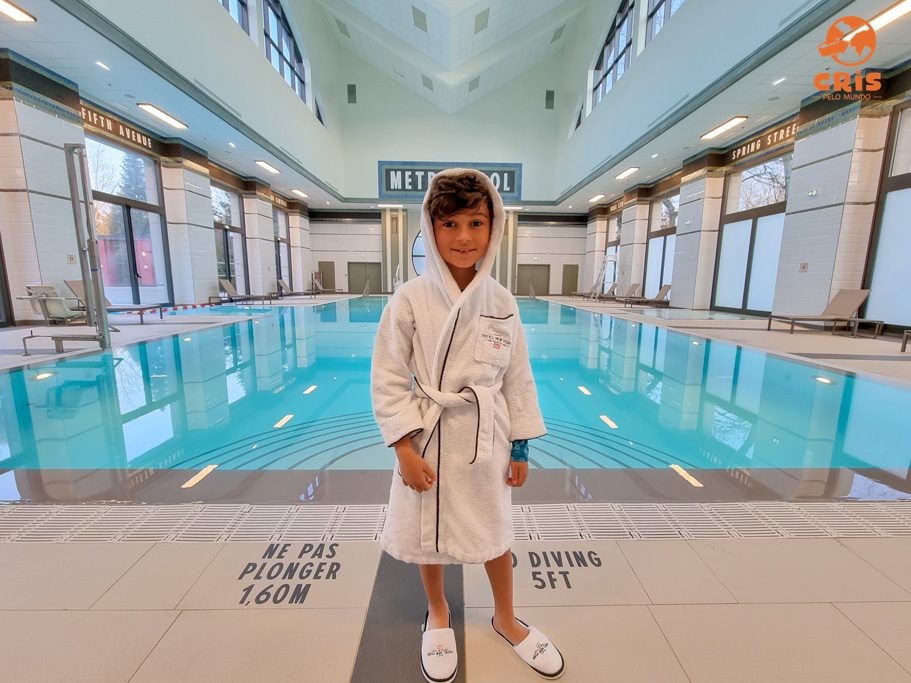 There is also an indoor Fitness Club and an outdoor Hero Training Zone.
The steam room is available for adults only - open daily from 7 a.m. to 10 p.m. (subject to seasonal changes).
New York Boutique
It would be impossible to stay at this hotel without visiting the New York Boutique. Filled with Marvel souvenirs, this store has everything from action figures to adult clothing. The main attraction, however, has to be the items exclusive to the hotel: a variety of prints, brooches, lanyards, shirts, bathrobes, figurines, key rings and even scented room sprays! You can also buy figurines of Iron Man costumes, as seen in the lobby, and prints of the artwork found around the hotel.
Emmanuel chose his birthday present in this store, two Iron Man gloves that emit sound, release darts and light up! And of course he put them on immediately and ran to the Superhero Station to take a nice photo equipped with them!
Restaurants and bars
With two bars and two restaurants (three if you count the Empire State Club Lounge), there is certainly no shortage of food and drink options to suit all tastes. The Downtown Restaurant is a small, relaxed and cozy option, where most guests go for breakfast and is also the most suitable option for a more relaxed lunch or coffee. Its size doesn't affect the atmosphere, as it has the largest collection of Marvel sketches in the entire hotel!
For dinner, a visit to the luxurious Manhattan Restaurant is a must (if you can get a reservation!). The delicious Italian menu is second only to the Asgardian chandelier that draws the attention of any Marvel fan.
For drinks, guests can choose between the trendy Skyline Bar or the Doctor Strange-inspired Bleecker Street Lounge. Although both bars offer a great place to relax, have a drink or a chat, the Skyline Bar has won my heart!
It's worth going with the little ones and asking for even a water! There, while you're enjoying your snack or drink, Spider-Man may be passing by the window, or perhaps an Avengers spaceship may be landing in his headquarters right in front of you. Of course, it's all a simulation on one of the huge screens in the bar, but it's still really cool!!!
When Emmanuel saw Spider-Man throwing his webs and jumping around, he went crazy and started screaming.
What are the benefits of staying at a Disney hotel in Disneyland Paris?
The first reason to stay at one of the Disney hotels is simply to intensify the magic! Each hotel has its own theme and you'll be in a magical world from the moment you wake up until the moment you go to sleep, but there are other benefits too.
When you book a Hotel + Tickets package at a Disney hotel, you will have unlimited access to Disneyland Park and Walt Disney Studios Park every day of your visit. Other benefits include;
- Free parking at the hotel and park entrances (saving €30 per vehicle per day)
- Extra Magic Hours. Enter the Disneyland Paris parks one hour before the official opening time.
- Free transportation between the Parks and hotels (except Disney's Davy Crockett Ranch)
- Selfie Spots. Opportunities to take selfies with Disney, Pixar, Marvel or Star Wars characters in your hotel lobby.

For me, entering the park an hour earlier and having the park almost empty is a huge benefit! We were able to go on the most popular rides almost empty! It saved us a lot of time.
Another point that really caught my attention was the possibility of meeting Disney characters! Of course, as well as the incredible Spider-Man at the Disney Hotel New York, we also had the chance to meet Mickey at the Sequoia Hotel
Other Disneyland Paris Hotels
Disney's Newport Bay Club [4 stars] - 15 minutes on foot or 8 minutes by free transportation
Disney's Sequoia Lodge [3 stars] - reopening on December 1, 2021. 15 minutes on foot or 8 minutes by free shuttle
Disney's Hotel Cheyenne [3 stars] - 20 minutes on foot or 8 minutes by free shuttle bus
Disney's Hotel Santa Fe [2 stars] - 20 minutes on foot or 8 minutes by free transportation
The following Disneyland Paris Disney hotels are currently closed;
Disneyland Hotel [5 stars] - undergoing renovations, reopening date still to be confirmed. Located right at the entrance to Disneyland Paris
Disney's Davy Crockett Ranch - closed for the winter from November 10, 2021 to March 31, 2022. 20 minutes by car, no transportation option
Enjoy click here to find out more about the 30 years of Disneyland Paris
Be sure to follow us on Instagram and enjoy all our trips in real time! In the meantime, don't forget our YouTube there are lots of tips and cool trips. And of course we'll always bring you news here, stay tuned to Cris around the world