It's simply INCREDIBLE!!!
Imagine a dream, now triple it, quadruple it and so on. Everything that is present at the 30th anniversary party of Disneyland Paris! We had a very special weekend to get to know all this news first hand and now I can bring you tears of emotion and joy that can't fit in my chest!
The Disneyland Paris 30th anniversary launch event for guests took place from March 4 to 6 and it couldn't have been on a better date! Since the little one's birthday is on March 6th, we put it all together and celebrated with a bang.
It couldn't be more magical than that, could it?
We already knew Disneyland Paris, we went in 2018I think it's become a tradition, huh? I have to be there for the 35th anniversary too!
Well, Emmanuel was only 3 at the time and it was like going for the first time again this time! I just hope it doesn't take too long for us to go back, I can't stand it for another 5 years, I'm already dying to enjoy it all again, it seems that Disney excites us in an unparalleled way.
We had a taste of some of the experiences that will be present at Disneyland Paris' 30th anniversary celebrations, such as: "Dream...and Shine Brighter!" which is a daytime show, the "Disney D-Light" nighttime show, a sequence with drones, Illuminations which, by the way, get your tissues ready, it's all very beautiful and I couldn't hold back the tears! We also saw the new "Gardens of Wonder" where art meets nature.
Useful information!
According to French government guidelines, face masks are no longer required at Disneyland Paris as of March 2, but remain recommended for experiences such as the parade and the "Disney Illuminations" night show.
These measures change all the time, so check the guidance at the time of your trip.
Okay, Cris, but what are those attractions you mentioned? I'll tell you all about them.
30 years of Disneyland Paris with lots of dreams and enchantment!
The celebrations began on March 6, 2022, but the official anniversary is April 12!
The historic opening of Disneyland Paris on April 12, 1992, marked the beginning of 30 years of magic for visitors of all ages. With more than 375 million visits since its opening and countless new experiences, Disneyland Paris has created unforgettable memories for all visitors, making it the best tourist destination in Europe. The secret to its continued success lies in its commitment to bringing new ideas to life, exploring new paths and continually reinventing what is possible.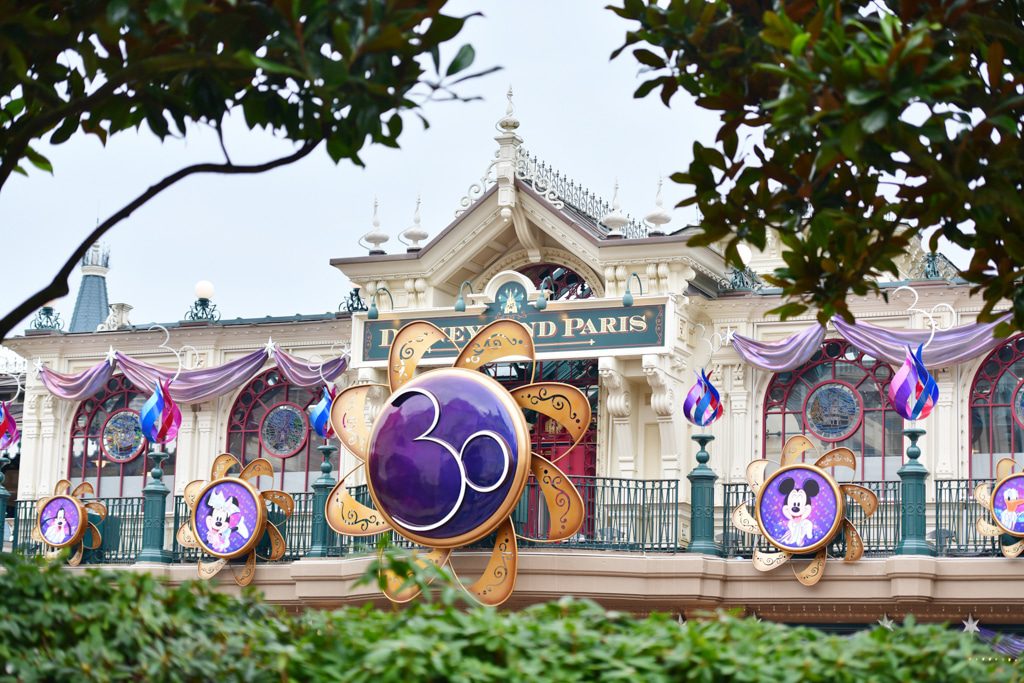 And this can be seen in all the numerous events that take place throughout the year, whether it's the Christmas party, Halloween or even the celebration of Disneyland Paris' 30th anniversary.
Eager to find out more about this incredible festival? Let's go!
Dream...and Shine Brighter!
Dream... and shine brighter!" is a daytime show, a unique and unforgettable entertainment that is an essential part of Disneyland Paris' DNA. So we can expect nothing less than something lively and wonderful, with lots of dancing and music!
This is a show that takes place in Disneyland Park, the characters walk along the street in front of the Castle of Beauty, but the show actually takes place in Central Plaza, a square right in front of the Castle, I suggest you find a seat there, that's where the characters stop and dance!!!
Dream...and Shine Brighter! It happens a few times a day, check the Disneyland Paris app for the times and which one is best for you to enjoy and not miss anything!
But of course the shows don't stop there, The Lion King: Rhythms of Pride Lands and Disney Junior Dream Factory are just a few memorable examples of the recent shows that visitors can continue to enjoy.
This daytime show is an opportunity for Visitors to see Mickey, Minnie, Donald, Daisy and their friends dressed in their new special outfits, created just for the Disneyland Paris 30th anniversary party. Other beloved characters will also be present, such as: the Genie from Aladdin, Rapunzel from Tangled and Jessie and Woody from Toy Story.
* The new daytime program "Dream...and Shine Brighter!" will take a short break from October 1 to January 8, 2023.

Remember, this show is not the famous Disney Character Parade.
Character Costumes for the Disneyland Paris 30th Anniversary Party!
We love a novelty and we were super curious to see how the characters would be dressed for the occasion, no doubt it would be something beautiful, and it was! Emmanuel went crazy and wanted to take pictures with all of them, every time we saw one, we ran to try and take advantage of it.
If you want to make sure you see Mickey and Minnie dressed in their 30th birthday suits, enter Disneyland Park around 9:30 and look up as soon as the music starts to take over the magic, they are usually welcoming and dancing for everyone at this time.
Curiosity
To design the costumes for this 30th Anniversary, more than 2,000 rows of rhinestones were sewn, more than 700 meters of fabric were printed and more than 190 pieces of jewelry were used.
Mickey and Minnie's Dressing Room has more than 450 outfits, and now includes the incredible new outfits designed especially for Disneyland Paris' 30th anniversary festivities. The hats were designed just for the resort's 30th anniversary, and these outfits are exclusive.
Since 1992, more than 200,000 costume pieces have been designed in the ateliers of Disneyland Paris, one of the largest costume collections in all of Europe.
Currently more than 40 Cast Members contribute their unique experience and creativity to the Disneyland Paris ateliers, such as fashion designers, pattern makers, seamstresses and more.
Minnie Stella Mccartney
For the 30th anniversary, Minnie Mouse has enlisted the services of British designer Stella McCartney to create her first suit at Disneyland Paris, adding it to her extensive collection like a true fashionista. Visitors will be able to see Minnie Mouse in her new outfit from March 6 to 31, in honor of Women's History Month, at the Studio Theatre.
Guests will have the opportunity to pose with Minnie and spend time with her in a colorful setting with a pop atmosphere, reflecting her image as a fashion icon over the years.
Meeting the characters
For me, this is one of the strongest points of Disneyland Paris: the contact with the characters is incredible! You bump into a different character all the time and you can immerse yourself in the Disney magic.
Don't forget to ask your favorite characters for their autographs!
The famous and eagerly awaited Mickey and the Magician show will return on April 23.
Illuminations the nightly light show
It's the famous light show that takes place at night when Disneyland Park closes. Sleeping Beauty Castle becomes a real stage for images that will make tears run down your face without any effort.
The music, together with the lighting and the fireworks, transformed our experience into something extra sensory that really touched our emotions, it was simply remarkable and beautiful, perfect for closing the day on a high note! For me, the most magical moment of the day.
After a busy day, choose a strategic spot and look up - you'll undoubtedly have a spectacle you won't even be able to blink at!
Illuminations combined with video projections, illuminated water jets, lighting effects, fog, lasers and famous Disney songs for an unforgettable moment that ends with a Disney D-Light drone display above the iconic Sleeping Beauty Castle.
"Disney-D-Light" the nightly drone show
Disney-D-Light is a drone show that also takes place at the closing, but which will be there for a limited time. Take the opportunity to visit Disneyland at its 30th anniversary party and have a unique experience!
Every second something new. The synchronized drones will form a shimmering "30" figure in the sky above Sleeping Beauty Castle, as the new 30th anniversary theme song, "Un monde qui s'illumine" plays in the background.
This new anthem was recorded with a symphony orchestra of 60 musicians at the famous Abbey Road Studios in London. This marks the first time Disney has used drone technology as part of a daily outdoor show above the Castle, a next step in the development of increasingly immersive and engaging experiences for visitors.
* Certain experiences, shows or events may be modified or canceled without prior notice, based on changes in health measures and recommendations from public authorities, or in the event of bad weather conditions.
Gardens of Wonder - Gardens of Wonders
To mark the 30th anniversary of Disneyland Paris, Disneyland Park is specially decorated and one of them is the Gardens of Wonder, 10 enchanting themed installations with 30 kinetic sculptures from Disney and Pixar that "come to life" in front of Sleeping Beauty Castle. The pieces of art celebrate nature, and you'll meet popular characters.
We loved the surprise of bumping into beloved characters at every turn! Emmanuel went crazy at various times, running around and screaming:

-Look Mom, the Genie! There's Stitch!
Each piece is inspired by a unique source, be it windmills or the world of Salvador Dali, combining materials, colors and luminescent effects to create an immersive atmosphere in the middle of Central Square.
These installations required the talents of many specialists such as engineers, technicians, painters, 3D modelers and others who worked for months in collaboration with the Disneyland Paris teams to create the poetic Gardens of Wonders.
Curiosities
- More than 35,000 trees, 450,000 shrubs and a million flowers are planted every year at Disneyland Paris.
- Around 100 cast members design and care for the exceptional green landscapes that were inspired and envisioned by Walt Disney. Everything is well thought out to make the dream come true.
- The environment and nature at Disneyland Paris are considered part of daily operations, thanks to a long-standing commitment to environmental management. At Disneyland Paris, there are nine horticultural professions, along with arborists and an irrigation system with 6,000km of hoses, which is unique in Europe. In addition, Disneyland Paris has its famous indoor plants that visitors can admire every day in all seven Disney hotels.
- Guided by The Walt Disney Company's environmental objectives, Disneyland Paris' sustainability efforts depend on multiple initiatives. One recent example is the construction of one of Europe's largest rooftop solar plants in the main parking lot, scheduled for completion in 2023. This will reduce greenhouse gas emissions from the Val d'Europe territory by approximately 890 tons of CO2 per year and produce enough renewable energy to supply the equivalent of 17% of Disneyland Paris' current consumption.
Food and drinks for Disneyland Paris' 30th anniversary party
The new menu includes delicious options such as Corn Chowder with Isigny cream, smoked popcorn and pastrami. An exclusive version of Chili con carne, one of Walt Disney's favorite dishes, with tortilla chips, cheddar cheese, Isigny cream, white rice, red beans and slices of meat. As well as a new Mac and Cheese dish with cheddar cheese and shiitake mushrooms.
Those with a sweet tooth can enjoy a selection of gourmet desserts, such as Pineapple Inverted Cake, vegan hot chocolate skillet or hazelnut cookie and the "Celebration Cake", a white chocolate and strawberry pastry cake served under a dome. A selection of vegan options and a children's menu will also be available.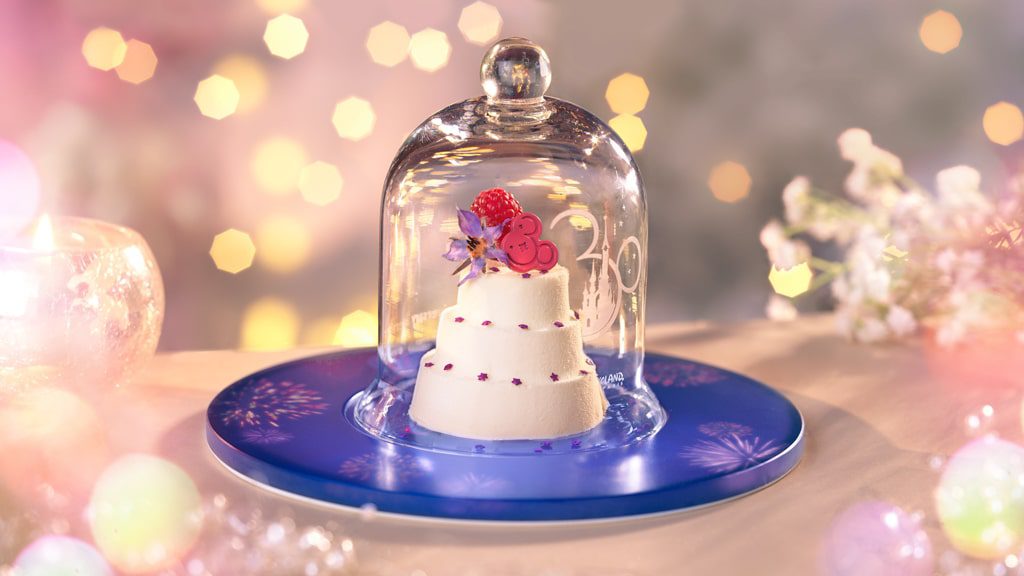 We celebrated Emmanuel's birthday in one of the restaurants with a special Disneyland Paris 30th birthday cake, and I can tell you it was delicious!!! We also tried some delicacies such as madeleines, chocolates, cupcakes and others. We ate it with our eyes before we even tasted it, everything was so cute and well prepared.
Okay, but where can I find these 30th anniversary delights?
Visitors can enjoy Disneyland Paris 30th anniversary treats in one of the 59 restaurants, 10 bars and many snack bars, including Mickey-shaped pizzas, sandwiches, ice cream, macaroons, madeleines and waffles to please visitors of all ages.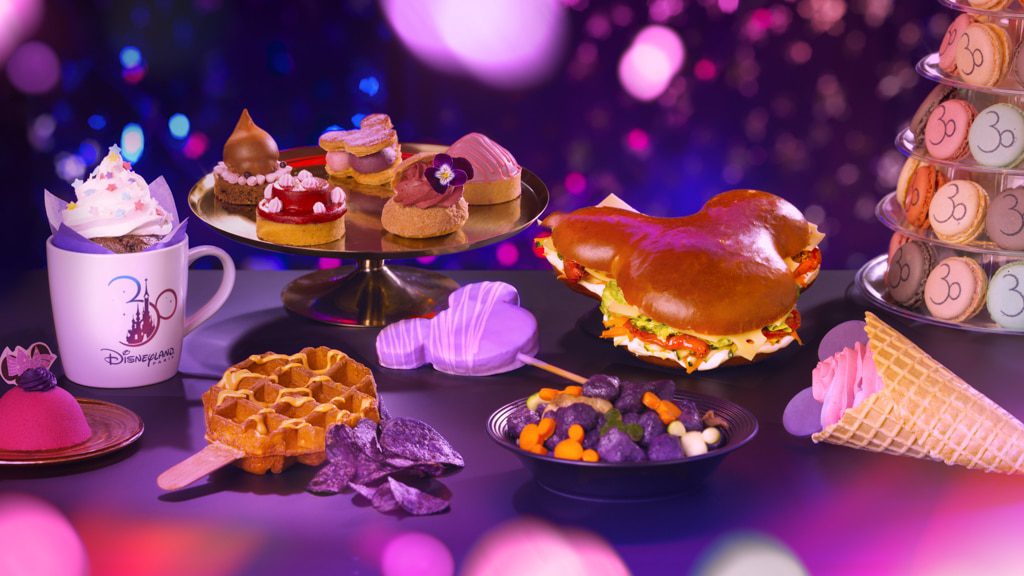 Special souvenirs to buy with the Disneyland Paris 30th anniversary theme
Disneyland Paris has a total of 63 themed boutiques, and going in and seeing each item is an experience in itself, I wanted to see everything and buy it too! Each one has a little something different.
But if you're going to the park at the time of Disneyland Paris' 30th anniversary festivities, you can't miss the store with the special Anniversary items! There are over 350 new exclusive items and they will be available for a limited time! And I'm not just talking about the ears, hats, sweaters and mugs, it goes way beyond that!
A collection of exclusive jewelry has been created in collaboration with Pandora, an official partner of Disneyland Paris since 2017. Included in the collection is a "double dangler" inspired by Sleeping Beauty Castle.
Rhinoshield, the new official partner of Disneyland Paris as of this year, will be offering two new models of its signature protective iPhone cases for a unique 30th anniversary style.
Danish home accessories brand Bodum will combine its know-how and sense of design to celebrate "30 years of magic" with the launch of three new iconic products: a glass tumbler, French coffee maker and travel mug
In addition to Minnie's sparkly ears and Mickey's luminous hat, you can also take Mickey, Minnie and friends home dressed in their new outfits.
There are so many options that you'll go crazy and want to take the whole store!!! Well, at least that's what happened to us, but we only brought Mickey, Minnie's hat and ears, laughs, but I really wanted a lot more.
Curiosities
Disneyland Paris has its own on-site creative studio dedicated to product development. They are constantly monitoring the latest trends in terms of shapes and colors! They also keep a close eye on the latest technological advances.
The creative team is made up of around a hundred talents working in the fields of drawing, buying, fashion design, visual merchandising and window design.
This team worked on the development of this new collection for almost 18 months.

30 years of news that doesn't stop here!
For 30 years, Disneyland has continued to develop more immersive experiences to bring stories and characters from the Disney, Pixar, MARVEL and Star Wars franchises to life.
The role and talent of Disneyland Paris' 16,000 cast members are essential, and their attention to detail, creativity, quality of service and, above all, their passion, help bring the Disney magic to life. This magic is seen in the attractions, shows, restaurants, stores, hotels, gardens and even the decorations.
Disneyland Paris is transforming the visitor experience at every level, presenting innovative and immersive novelties that are constantly being updated.
The next novelty will be the opening of the Avengers Campus this summer, but this is just the start of a huge expansion plan.
Since the magic of Frozen and even Star Wars are in the plans for release in the next few years.
Accommodation - Disney's Hotel New York - The Art of Marvel
Disneyland Paris has 7 incredible hotels to choose from, but Emmanuel, as a super fan of the Marvel world, was eager to see one in particular.
We stayed at the newest hotel at Disneyland Paris and I can tell you that it goes beyond the concept of a hotel! It's an attraction that every Marvel fan should see!!! Emmanuel went crazy at various moments, but I think what he enjoyed most was meeting Spiderman, his favorite character in life!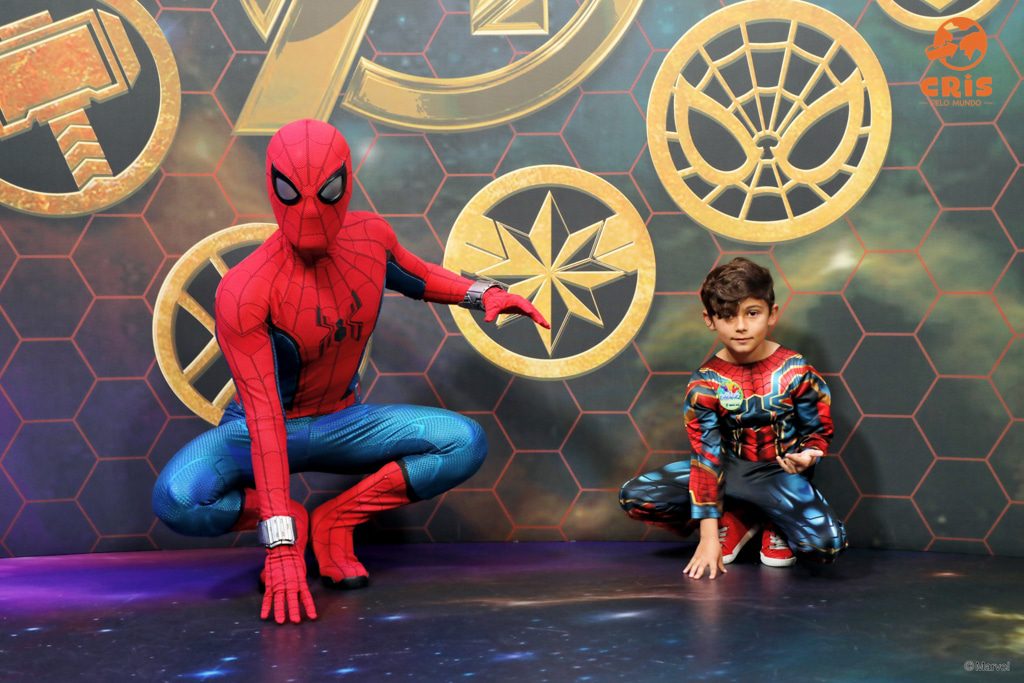 The hotel is very close to the Disneyland Paris parks. You can walk to the Disney Village in 10 to 15 minutes, but if you don't want to walk, the hotel also offers free transfers to and from the parks.
Another plus point of staying at Disney hotels is that you have the chance to enter the parks ONE HOUR earlier and that makes all the difference.
Everything was really wonderful, and I'm going to do a post all about the hotel to satisfy your curiosity! And I can already tell you that I'm really looking forward to the next Disneyland Paris news!

Be sure to follow us on Instagram and enjoy all our trips in real time! In the meantime, don't forget our YouTube there are lots of tips and cool trips. And of course we'll always bring you news here, stay tuned to Cris around the world