Comfort in the clouds
Flying business class is a dream for all travelers! After all, it's a comfort we can't even compare with economy class, it's simply sensational! And I'm going to tell you all about our experience flying TAP business class with a child! But first I'm going to answer a question I had myself. Is it possible to fly with children in business class? Yes!!! This is a question that some people have raised and even I had my doubts. As it's a premium class, some parents feel insecure about any annoyances that children may cause during the flight, but there are no restrictions on flying with a baby or child in business class.
I was very relaxed, as our little one is more than used to flying, and I was sure he wouldn't bother anyone. He never gave us any trouble or cried in economy class, so he certainly wouldn't do that in business class. However, if you're unsure and want even more security, See here and here are some tips to make any flight with a baby or toddler easier. I confess that it took me about 26 years to get to know the pampering that business class can offer us. This turns out to be a turning point in our travels, after all, once you know what's good, everything is different, laughs! And our little one noticed this a little while after we took off and immediately said the simple phrase: BEST FLIGHT OF MY LIFE!
We were leaving Portugal to see family for the end-of-year vacations, and of course, if you're leaving Portugal, the first airline that comes to mind is TAP Air Portugal. First of all, it has an excellent airline network, with direct and fast flights linking Porto or Lisbon to the capitals of Brazil. In just over 9 hours, we were already landing in our beloved Rio de Janeiro.
How I felt about the safety of flying after COVID-19
Before I talk about the whole experience of flying in TAP business class with a child, I need to talk about all the precautions taken to avoid being infected with the new coronavirus (COVID-19).
I haven't been on such a long flight out of Portugal since this whole thing started, and with the craziness that the world is going through, we're apprehensive, even though we know that it's almost impossible to be contaminated during a flight. That's why I'm going to talk about the measures being taken by TAP Air Portugal regarding COVID-19.
Check-in with security measures
I noticed that at check-in, at Porto airport, all the counters had protection between the employee and the customer. We were warned not to touch the counter and to show our passports through the glass, with virtually no contact. Needless to say, we were wearing masks at all times and so were all the staff.
Safety and hygiene measures on board
As soon as we board the aircraft, we are greeted with sachets of disinfectant towels, and all the flight attendants are wearing masks and gloves. As I said before, studies have shown that it is almost impossible to transmit COVID-19 during a flight, because the air is completely renewed at a very high frequency, about 20 times in just one hour.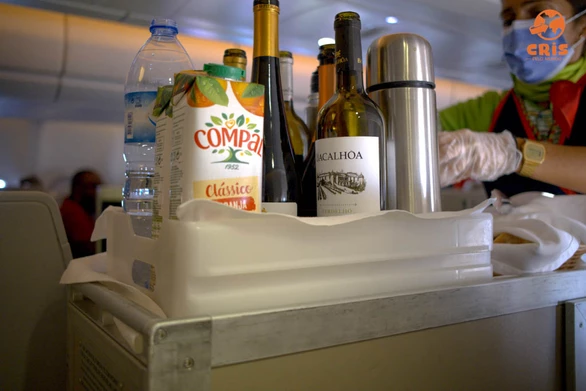 As soon as we landed, I overheard the flight attendants talking to the airport agents in Rio de Janeiro about how there hadn't been any suspicious cases of coughing or fever during the flight, which made me feel even more secure!
Remember:
Children under the age of 6 are not obliged to wear masks, but I instructed the little one to wear a mask from the moment he entered Porto airport until he left Rio de Janeiro airport. We only took our masks off at mealtimes. See here how the measurements are on the official TAP website
Boarding
Well, before I talk about TAP's Business Class, I'll tell you about boarding. I found it super smooth and quick. I arrived with my daughters separated into priority, executive and rows. First all the elderly people boarded with their wheelchairs, then the babies and then the toddlers and slightly older children, and only then did they follow the division into business and economy class.
This is extremely important, especially for those traveling by plane with a baby or child, as the stress threshold of little ones is different from that of adults. This makes us much more relaxed and comfortable. Well, those of you who have read my texts know that this is one of the secrets to a successful and tear-free flight, after all, calm parents, safe and calm children too.
Another good thing about babies and children boarding first is that it gives us time to get comfortable in the seats without crowding the aisles and without being rushed by someone wanting to pass us, leaving the normal boarding flow free. When traveling with our little ones, flying with a "Family Friendly" or "Kids Friendly" airline is a good idea.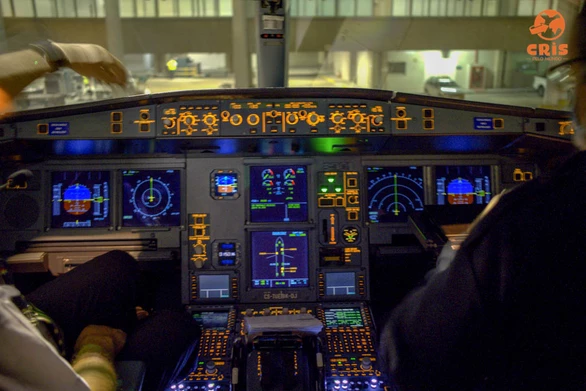 dly" makes a lot of difference, you'll see for yourselves when I talk about the children's kit our kid received in a moment! Now let's get down to business! After all, what's it like flying TAP business class with a child?
A330 neo aircraft
We flew on the A330 neo, with seats that turned into real beds! But before I talk about all this comfort, I'll tell you about its configuration and other points I found interesting. TAP's A330 neo business class has a 1-2-1 seat configuration, so we ended up flying separately. Igor had a quiet flight while I was playing games and watching videos with Emmanuel, laughing, but there was nothing that stretching our hands across the aisle couldn't bring us closer again. Another interesting point about the A330 neo is that this aircraft emits LESS 25% of pollutants, as well as being more efficient, saving around 14% of fuel, the planet deserves this care! Congratulations to TAP for being the first company to implement this aircraft.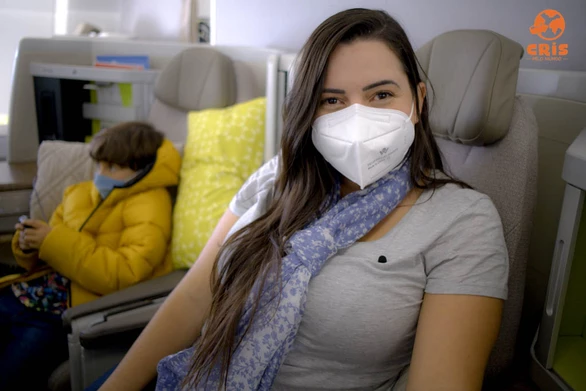 This is what really caught my eye on the A330 neo! Every passenger has an incredible treat, at least I loved it and was surprised!!! The wi-fi for text messaging is free, I spent the whole flight talking to my family on WhatsApp, I thought that was really cool. The A321LR planes also have this benefit. You need to log on to the TAP network and renew your access every hour, but I did this several times and spent the whole flight connected. It was great as my flight was during the day and it really helped me pass the time. If you want to talk beyond text messages and use the internet, there is usually a charge for this, but I didn't think it was necessary.
TAP Air Portugal Business Class Structure
As soon as I entered TAP's Business Class, I was impressed by the tasteful decor, comfortable colors for the eyes and a sophisticated air, as well as the huge, comfortable seats! Each aircraft has a different configuration, so remember that I'm talking about the A330 neo. I had never flown in a Business Class where the seat reclined 180 degrees, and I found it very comforting! In addition to having anti-allergy pillows and blankets, for me, who is allergic, this makes a big difference! I can't remember the last time I flew without a runny nose.
The headrest is adjustable, the seat is fully adjustable, whether it's forward, backward, tilted, 90 degrees, or completely lying down, and the television also has two types of position, which enhances our comfort. If you want to know more about TAP's Business Class, click here
TAP Air Portugal Business Class Amenities
As soon as we were settled in, I received a lovely little bag with a pen, eye patches, socks, moisturizer, ear plugs, scented sachets - mine smelled like Lisbon and Igor's smelled like Coração do Minho - a different bookmark in each one, toothbrushes with paste and a comb, but what I liked most were the bags themselves! Each one decorated in a different way, beautiful and collectible!
A great souvenir from Portugal, while Igor took in the sights of Lisbon, I remember Minho, the region that was our home for a few years, a souvenir that goes beyond a simple product, a feeling of affection and good memories lived. The headphones given to us to use with the entertainment system are very good and comfortable, completely protecting us from any extra noise with their sound insulation technology, but remember, they must be returned after the flight.
TAP Air Portugal Business Class on-board service
Shortly after we took off, the flight attendants handed us our menu for lunch, with a starter, three main course options and dessert. While I was choosing a good wine, a chestnut appetizer was served. I could have chosen any other type of drink, but as I know Portuguese wines very well, I chose a good white wine. Next came the salad and soup starter, and then my main course: Terrinha de Novilho e cenoura.

It was literally falling apart and completely delicious! To accompany the dish this time I chose a red wine, while Igor went for the famous confit cod, chickpea puree, ginger and cumin. Dessert was a red fruit syrup which they called fruit soup, pineapple panacotta and cheeses.
We finished with chocolates, coffee and a wonderful muscatel.
The kids' menu is different and I'll talk about it later. An hour and a half before we landed, the in-flight service started again. This time there were cheeses, turkey breast, fruit, pastel de nata and a chicken pie and another coffee to wake us up. Our flight was during the day, so we had lunch and a snack.
Entertainment system
I have to confess that one of the things that impressed me most about TAP's business class aircraft, apart from the fact that the seat can be tilted 180 degrees, was the size of the televisions and the fact that they are touch screens.
Our little one went crazy and was able to play a lot of the games he likes, such as Angry Birds, which kept us completely calm during the flight and kept him entertained. I was a bit worried about the boredom that could happen on such a long daytime flight. Of course, the movies also made up some of our happy hours, we could lie down together and watch some cartoons as a family, it was sensational.
And when I say there are a thousand options, there really are!!! Films, series, television episodes, subjects focused on travel and destinations in Portugal, games and much more. I wasn't bored for a single minute of the flight, and I didn't sleep either, the flight literally flew by.
What it's like to fly with children on TAP Air Portugal
I've already told you a few thousand times that TAP is a completely "Family Friendly" or "Kids Friendly" company, and everything goes from the smallest detail to the cutest things like the children's amenities that TAP offers. As soon as we arrived we received a kit full of nice things for children, and it wasn't because we were in business class, when we left I saw all the children with the same kit! As soon as Emmanuel arrived, he opened his eyes and liked the little bag, but then he was even more surprised.
Inflatable neck rest, colored pencils, non-slip socks with airplanes on them, toothbrush, little card with the names of the countries and their location on the map, mini notebook and a first flight diploma! This diploma was the first thing Emmanuel picked up so he could write his name, he loved it! He's already using his little backpack up and down, so our experience in TAP's business class with a toddler was great!
I've said it a few times, but I'll say it again! When children feel loved in the environments we visit, everything changes! Everything! They are much happier and more receptive to change, and of course the flight goes much more smoothly too. See here tips to make your flight with a baby or toddler much smoother.
On-board service for children on TAP flights
TAP offers a special menu for the little ones. You have to make a pre-flight reservation, and it's worth it, you know? Don't forget to ask for your little one too. Well, if it was nuts for me, it was M&Ms for the little one. His main course was pasta, which he ate very quickly, so I suspect it was very good! And for dessert he had chocolate mousse, brownie and cheesecake and another chocolate to finish. For his drink he chose apple juice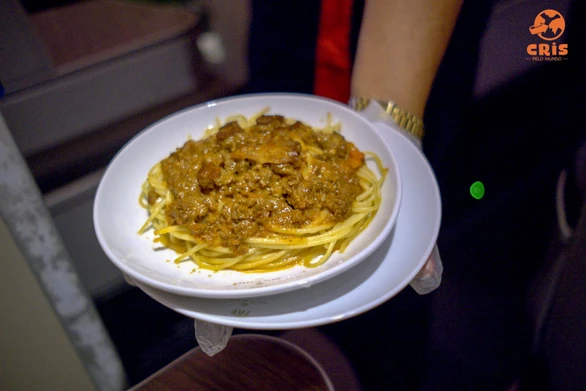 During the flight he got another chocolate and at snack time another one! What a spoiled little boy, laughs. The snack came with sandwiches, cold cuts, custard tarts, fruit and bread. For anyone traveling with children, there is a free seat reservation regardless of the fare chosen. If you want to know more about TAP's policy on traveling with babies and children, click here.
What I thought about flying TAP business class with a child
SIMPLY WONDERFUL, as I've already said, I was very afraid that it would be complicated by the possibility of the little one disturbing the other passengers, but it was much quieter than flying economy. All the pampering, comfort and tranquillity that Business Class offers makes the trip much more enjoyable for everyone.
It was undoubtedly our best flight as a family and now that we've discovered what it's like to fly TAP Business Class with a child, it's going to be hard to go back to economy.
EXTRA TIP!
Calm down, your dream is to travel in Business Class? There are chances! Click here. Once you've bought your ticket, you can bid to upgrade your class. If your bid is accepted, you'll receive an email informing you of the next steps.
However, if you really want to travel in Business Class, don't risk it, as it only goes up for auction if there happen to be seats left in Business Class, and I can already tell you that on my flight, there was only one. Take advantage of this tip and travel in even greater comfort =)
Be sure to follow us on Instagram and enjoy all our trips in real time! In the meantime, don't forget our YouTube  there are lots of tips and cool trips. And of course we'll always bring you news here, stay tuned to Cris around the world

See our tab AIRCRAFT and enjoy other tips too

The text 10 tips for flying with children it will certainly help you
O child flight survival kit also